Recipe: Delicious Cinnamon Snowballs
Cinnamon Snowballs.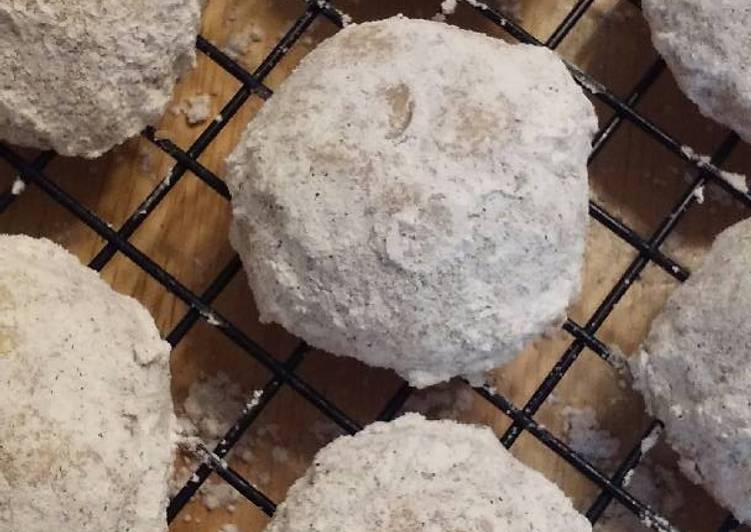 You can have Cinnamon Snowballs using 6 ingredients and 9 steps. Here is how you cook it.
Ingredients of Cinnamon Snowballs
You need 1 cup of unsalted butter, softened to room temperature.
You need 2 cups of confectioners sugar, divided.
Prepare 1 tsp. of vanilla extract.
You need 2 1/4 cup of all purpose flour.
You need 1/2 tsp. of salt.
It's 1 1/2 tsp. of ground cinnamon, divided.
Cinnamon Snowballs step by step
In the bowl of a stand mixer with a paddle attachment or using a hand mixer, beat the butter on med-high speed until it is creamy, about 1 minute. Then beat in 3/4 cup of the confectioners sugar. Stop to scrape down the sides and bottom of the bowl as needed. Add in the vanilla extract..
On low speed, add in the sugar 1/4 cup at a time until it's all added in. Once it's all combined, add in the salt and 1/2 tsp of ground cinnamon. Beat on high speed just until the dough comes together..
Cover the dough tightly and chill it in the fridge for at least 30 minutes (or up to 4 days). If you chill it for more than 3 hours, then let it sit out for 30 minutes or so before rolling, to make it easier to work with. In a medium bowl, whisk together the remaining 1 1/4 cup confectioners sugar with the remaining 1 tsp of cinnamon. Set that aside..
Preheat the oven to 350°F. Line a few baking trays with either parchment paper or silicone baking mats..
Roll the dough to balls, about a tbsp of dough per ball. Place them about 1" apart on the trays..
Bake for 11-13 minutes, or until lightly browned on the bottom. Once they're done, let them cool on the tray for 5 minutes..
After the initial 5 minutes, gently roll each ball around in the confectioners sugar, then place them on a wire rack to cool completely..
Once they're all completely cooled off, roll them again in the confectioners sugar (this time is when the sugar will really coat it well)..
Store in an airtight container for up to 5 days..