Recipe: Delicious Sophie's garlic cheese stuffed dough balls
Sophie's garlic cheese stuffed dough balls. Give our tear-and-share gooey cheese-filled dough balls a go at home with step-by-step help from the olive test kitchen. They'd make a great starter for the kids or something to kick off a laid back dinner party. Loaded with cheese, these warm, buttery bread balls are irresistible.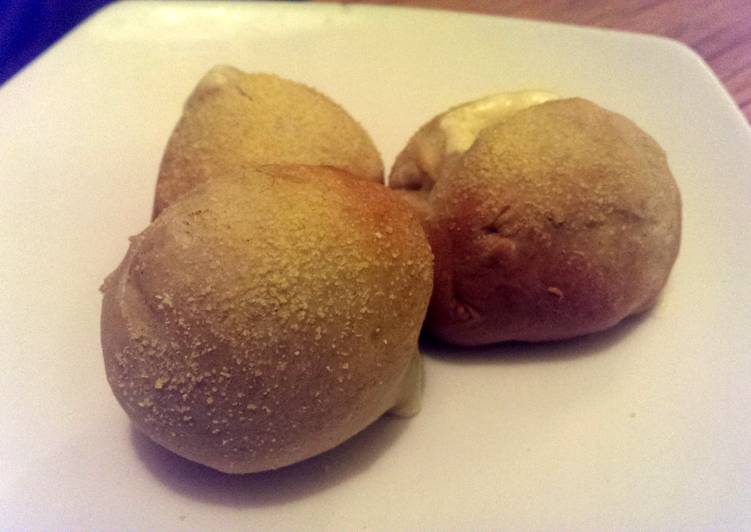 Grease the pan with melted butter. Look no further than these stuffed garlic dough balls! Easy cheesy finger food doesn't get more delicious than this! You can cook Sophie's garlic cheese stuffed dough balls using 16 ingredients and 10 steps. Here is how you cook that.
Ingredients of Sophie's garlic cheese stuffed dough balls
You need of dough.
It's 350 grams of flour.
Prepare 1 tsp of salt.
Prepare 1 tsp of sugar.
Prepare 2 tbsp of Olive oil.
You need 1 of sachet fast acting yeast.
It's 200 ml of warm water.
You need of filling.
You need 75 grams of slightly softened butter.
It's 1/2 tbsp of garlic powder (might be too much for some, but I'm a fiend for garlic).
Prepare 75 grams of cheese (your choice, anything that melts well. I used cheddar as that's all i had).
You need 75 grams of cream cheese.
Prepare 1/3 tbsp of chopped dried parsley (optional).
Prepare of topping.
You need 1 tbsp of oil.
It's 1 tbsp of cornmeal (optional).
Place mozzarella down the middle of each strip. Fold and pinch the dough around the cheese along the entire strip, ensuring to close off the ends. Stuffed Bagel Ball Variations: You can get super creative with the cream cheese filling and toppings! I adore the garlic knots using this basic dough recipe, I cannot wait to try these ones!
Sophie's garlic cheese stuffed dough balls instructions
In a bowl, combine your salt and flour..
In another bowl, combine your water, sugar, yeast and oil. Mix well and then mix into the flour..
Once fully combined, turn out onto a floured surface and knead for about 10 minutes. Feel free to add as much flour as you need..
Place in a bowl and leave to rise for around an hour..
While that rises, combine your butter, cream cheese, garlic powder, parsley (if using) and grated cheese. Set aside in the fridge..
After an hour, preheat your oven to 180°C..
Cut your dough into chunks about 1 ½"..
Form a well in each chunk and fill with as much filling mix as yoy can safely do without it leaking out. Pinch the edges together to seal it in. Place on a lightly greased baking tray and repeat..
Use a pastry brush to apply a thin layer of oil to the tops, sprinkle with cornmeal then bake for 7 mins or until golden brown..
Enjoy hot!.
So easy to make, thanks for all the great options Gina!! Let's say it again, Garlic Cheese-Stuffed Pretzel Bread Bombs. So what was the inspiration for these cheesy balls of love? … I dunno. I probably saw a picture somewhere. But I knew I wanted my first recipe posted on my new site to be really special.