How to Cook Delicious Ham and Swiss with Muffaletta Olive Salad
Ham and Swiss with Muffaletta Olive Salad. Great recipe for Ham and Swiss with Muffaletta Olive Salad. After the salad was refrigerated overnight and the flavors developed, well I just couldn't wait. It gives the sandwich a good delicious crunch!!!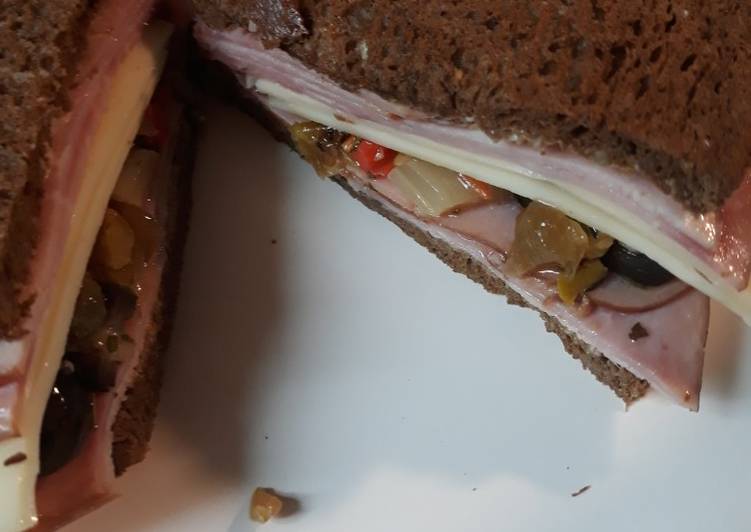 Quarter, half, and full-sized muffulettas are sold. Salvatore also created the infamous muffaletta. It is stuffed with ham, salami, mortadella, swiss, provolone and olive salad. You can have Ham and Swiss with Muffaletta Olive Salad using 6 ingredients and 2 steps. Here is how you achieve it.
Ingredients of Ham and Swiss with Muffaletta Olive Salad
Prepare 2 slices of pumpernickel rye bread.
Prepare 1 teaspoon of dijon mustard.
You need 1 tablespoon of mayonnaise.
You need 4 slices of black forest ham divided.
It's 3 tablespoons of Muffaletta olive salad see my recipe.
Prepare 2 slices of swiss cheese.
The muffaletta is one of New Orleans' most iconic and identifiable dishes. Made on large rounds of sesame bread and layered with olive salad, genoa salami, ham, mortadella, provolone and Swiss cheese, the muffaletta is clearly Italian in spirit and yet no such sandwich exists in Italy. Get a taste of New Orleans with a classic muffuletta sandwich! L ayered with Genoa Salami, Mortadella (Italian bologna), Capicola (ham), Provolone, Mozzarella, and a homemade olive salad, this indulgent sandwich is worthy of a celebration. "Muffuletta" (pronounced "muffuLOTta" and sometimes also spelled as "muffaletta") comes from the bread known in Sicily under that name.
Ham and Swiss with Muffaletta Olive Salad instructions
Mix the mustard with the mayonnaise and spread it out over the two slices of bread. Add 2 slices of ham per slice of bread. Add the salad on top of one side of the sandwich..
Add the cheese slices on top of the salad. Assemble the sandwich and serve. I hope you enjoy!!!.
Traditionally, the sandwich is made with sesame-crusted wheel of bread, Italian salami and ham, cheese (usually provolone and Swiss), and olive salad. In a large bowl, whisk the first seven ingredients. Add the remaining ingredients; toss to coat. Cover and refrigerate for at least eight hours, stirring occasionally. This sandwich is definitely not svelte fare, but it is delicious.