Recipe: Perfect EASY Cream cheese stuffed zucchini bread
EASY Cream cheese stuffed zucchini bread. Easy cheese stuffed zucchini is a winning side dish! Fill it with your favorite cream cheese - I recommend herb cream cheese! Rinse the zucchini, slice the top off and hollow out the inside.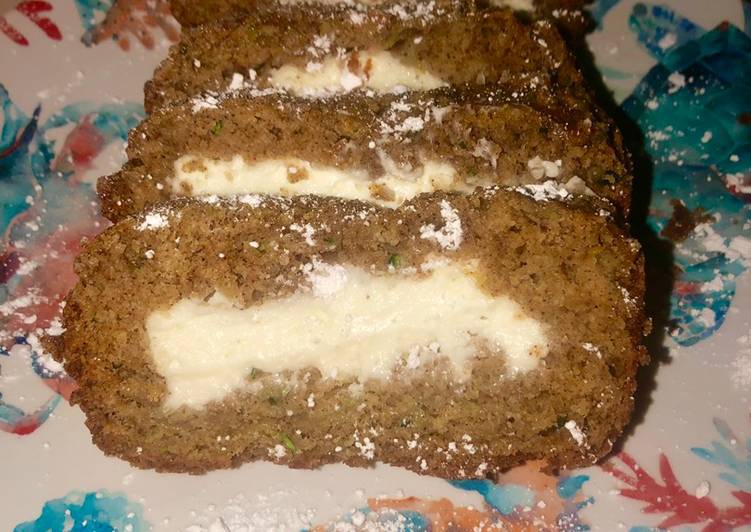 Season with salt and pepper and spoon into the. This took this bread to a whole different delicious and amazing level! The bread was moist and baked to perfection. You can have EASY Cream cheese stuffed zucchini bread using 11 ingredients and 2 steps. Here is how you cook it.
Ingredients of EASY Cream cheese stuffed zucchini bread
You need 1.5 cups of flour.
Prepare 1/2 cup of brown sugar.
Prepare 1/2 cup of white sugar.
It's 1/2 teaspoon of baking soda.
It's 1/2 teaspoon of baking powder.
Prepare 1.5 cups of grated zucchini (skin left on).
You need 2 teaspoons of vanilla.
Prepare 1 of egg.
Prepare 2 teaspoons of cinnamon.
It's 1/2 teaspoon of nutmeg.
Prepare of Filling: 8 oz softened cream cheese mixed with 1/4 cup powdered sugar.
It has a cup of zucchini and a cup of banana hidden inside. The cream cheese is like a cheesecake layer swirled in the center of the bread. It's a stuffed zucchini, made with breadcrumbs and garlic and butter and poultry seasoning. This zucchini is stuffed with a simple mixture of seasoned bread crumbs and butter.
EASY Cream cheese stuffed zucchini bread step by step
Preheat oven to 350. In one bowl mix fry ingredients and in another mix the wet ingredients then combine. BARELY MIX. It will look too thick and dry to be a batter but ITS NOT. Scoop half of the batter mix into a greased loaf pan..
Mix cream cheese and powdered sugar together and pour in the center distributing to almost each end. Cover with remaining batter mixture. Sprinkle a little granulated sugar on top and bake 45 minutes..
To get more vegetables in the stuffing and for more color, saute some shredded carrot or celery along with the. The zucchini in this quick bread (aptly named as such because it's made without yeast, so it's quick to make), serves a double purpose. I like to layer slices of cheese in the zucchini bread so you can actually see it, plus you get better pops of cheesy flavour compared. Here's another brilliant (and easy!) way to use up a garden full of zucchini. These tasty loaves are freezer-friendly, so bake up a few batches and save for later.